Bears' Stories...
---
That cold night down the port
A short erotic story by: Jan Masny
It was a very cold night, and thanks(!) to my job, I had to go down the port for a vessel arriving that night and to discuss about a discharging plan.
Well, I packed up my bag and left the warm of the house.While driving to the port, visibility decreased until less than two meters. Arrived at port: the dock was still free and the vessel was not there nor approaching.
Phoned the pilot station and pilot on duty told me that due to suddenly dense fog patches, berthing was delayed of about one hour.
I didn't want to get back and remained into car waiting vessel berthing. By the way I needed to piss, so left car and looked for a sheltered place to piss. There was the stevedores locker container, somebody supposed to be in, there was a light and I heard the sound of a turned on TV.
Well, pissed out all the piss, it was so clear and smoking. While I was closing my flap, a stevedore went out from the container and asked me some information about vessel's arrival, told him about the delay, and he gently asked me to get in to shelter from the cold and wait inside.
A nice guy, a tough but a very nice guy. 50 y.o. more or less, a very rich brownish beard, some white spot inside, short cut, not very tall, blue eyes, face burnt by sun, brown shortcut hair, a cap with little bear attached, a thermical suite, safety shoes and an open and comfortable glance.
Yeah! He was a really nice bear. He asked if I would have liked to have a cup of coffee and I accepted. I remained alone and being curious as a monkey, started to watch all around. I saw a magazine below some craft paper sheets, and much to my surprise that magazine was the right one: Bear magazine.
He returned with two smoking cups of coffee, and with a foxy smile on his face. He sat down, tendered my cup of coffee,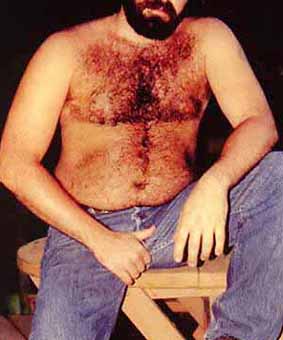 and started to look at Magazine. He was drinking, looking at magazine, looking at me and touching his flap massaging his cock.
We started a strange game. We touch our flaps, watching into our eyes full of lust and desires. Then suddenly he moved toward me, putted his strong and large hands on my flap and massaged my cock, my hands run on his flap and I found a nice hard and strong cock, hard enough to be worked for couple of hours. He took me, and pushed into the rear room where there was a bed.
Warm temperature inside due to a stove and our excitation made by desire of meat, sex and unleashed lust.
Very soon we were naked, how beautiful we are.
Two nice kind of bears. He was tough and rough enough, very hairy, two nice legs, a large & hairy chest, brown pink nipples, soft belly, a vigorous erected cock. Me, quite slim, very hairy, well built, and my cock extremly erected, hard as marble an proud to be as it is. In a while he brought me on the bed, and swallowed my cock, pushing it down deep in his throat. My hands in frenzy, touching his head, his short hair, his face and beard, his chest, his nice erected nipples. His hands were squeezing my balls and I liked it a lot. My hungry mouth was claiming his portion of meat, of male, of sex, of cock. I stopped him, and asked to lay down on the bed with his belly toward my face.Oh, Jesus what a beauty he was!
I went over him, plugged his mouth by my hard and wet cock, and took his nice cock into mine. His taste, his perfume, the softness of his balls on my face, the male humus drove me mad and mad, giving me a sense of mighty.
After a while I was very close to cum and advised him. He said c'mon spread your cum all over my chest and body. So I did it, cumming very much, shouting any sort of words to him: he was full enough of sperm in any side of the chest, stomach, belly. His cock was watching at me, and after a few seconds some spreads of cum were lying on my chest, my face.
We remained as we played: One up on another, melting our liquids remaining in that such a wet and juicy 69.
I was standing up, when all of sudden his hands locked me. He asked me to sit with my ass on his face!!!! I did it without asking me why.
His tongue soft as velvet and wet was licking my man pussy, sucking and licking it very hungry. His tongue was penetrating as deep as possible, and I helped him enlarging my ass hole as much as I could. He was getting me out of my head, my cock was exploding. He was fucking me with his long and strong fingers, then as a cat he jumped on my back ,opened my asshole and pounded his cock deep down inside. A heat wave caught my brain..
That bear in me, who was fucking me, jacking off me, while stretching my nipples erected by the situation, his tongue and mouth kissing me, licking me everywhere, was terrifically drowsing me.
We cummed once again and then fell tired but satisfied on the bed.
A light entering through the window, and a whistle blow waked us up from that very quite moment of pleasure... Vessel was berthing
I had to go, the dues after the pleasures.........
Said hello to my one nite friend, and disappeared into that cold and foggy night, it was so cold, but I was very warm inside.......

Jan Masny
---
---