ORSI ITALIANI MAGAZINE
---
Murano
Walking through Murano calli's, in a September warm autumn morning
(Somebody is spying me)
A short story by Jan Masny

Well, after all I must admit: yes I'm a poor romantic!.Do I have to be ashamed? I hope notJust because of my bearish nature, sometimes I feel the need to leave the town and find a place where to stay calm, quite and feel confortable.
Well, my nice place is Murano. A nice paradise's corner, delicious and by same time sophisticated and very picturesque. Every year at the beginning of autumn, one of the most beautiful season of the year , so loved even by Lord Byron, I spend a couple of days there, renting a flat reserved to me by a family that I know and that every year rents same apartment to me. So last year too I had my brief vacation in such a lovely place, but with a little unexpected variation...
I arrived in Murano, went to the apartment, and placed all my stuff and looked up at the nice landscape from the balcony: the canal, the blue sky, the roofsI left the house, and went down to the street. Paid a visit to the owner of one of local glass furnace, where usually I buy some crystal or coloured glass. I never leave from Murano without a new piece of glass or crystal (what can I do if I like glass??). Then I left the shop, walking slowly (this happen only when I'm out from the town and business) through the little roads (calli) of Murano, watching people faces, little shops and nice old little bridges that connect both sides of the canalAfter awhile I reached one of the nicest and ancient church in the area (build around 1200 a.c.) located at the end of the canal.
All round was quite and silent. Went in and stood up watching a nice Jesus Crucified Christ all made by glass in the original size. What a nice glass art masterpiece! I stayed there for a while to learn more about the artist and to fully enjoy the sculpture. The light into the church was very stimulating, the sunbeams were filtered by artistic coloured glasses of the church windows and all decorations on the glasses seemed to be alive. What a terrific nice place. There were some tourists, maybe 10 or 11 people all of them with cameras, and videos. All of a sudden I felt like being observed or spied: I turned my face away from the statue and I saw one guy maybe filming the statue. As soon as my eyes met that guy's eyes he stopped filming, looked at me, smiled and then left. He was a very nice guy. Do you know Magnum P.I (or better Mr Tom Selleck) ?? Well, he looked like him, but with some extra pounds...
Well after a while I left the church, and went outside into the warm morning. Walked trough little roads of Murano. The sun was high and some tasteful aroma of ready to serve meals were in the air. It was noon time, and because of the time, the place and my relaxed walking, I was hungry. I looked for a place to eat (you cannot imagine how many nice and inviting places are in this little island), they are all very nice and clean, and placed along the canal. I choose one small and intimate one: from my table I was able to watch both sides of the canal and to be kissed by the warm autumn sun, that kisses softly and not wildly as in summerHad menu' and decided to eat only fish ( I love fish and sea-food, more than meat). I also had a very good and tasteful white wine. The day was very nice and I was very happy. I turned my face to the canal and saw, just a table behind me, the Magnum P.I.'s face with his Video focused on me I looked at him and don't know why I smiled at him After such a smile, he left his table and speaking in a quite correct Italian, but with a strong American accent, he asked me if he could sit at my table. I, using my best Bostonian English, answered that the place was free and to sit wherever he wanted He asked for the same fish dish I was having and of course for more wine. I learned that he was a reporter for a Californian TV and was in Italy for a documentary about Venice and her little famous islands. His name was Ray and he lived in California.He was so nice and lovely. You know the guy who has the capability to let you feel good He was very nice.
Smiling I asked him :- Tell me please, am I also included in your documentary?? He smiled and said:-No, you are just for me, you were so nice in that church contemplating that beautiful Christ, you look so bohemian. Then I liked your way of walking, so cool, and liked your silhouette. We ate and of course drunk, maybe a little too much, so we decided to have a couple hours of relax, and due the fact that he his hotel was in Venice, I invited him to stay at my homeWe left the restaurant and walked to my house. We seemed like the Peynet fiancées, but who cares about what people might think! I was happy and he seemed to be happy too. My mind was running ahead and dreaming about the very nice afternoon we was going to have. An afternoon made of sex and love.hard games and lovely moments and passion As usual Dr Jekill and Mr Hyde were fighting inside meShould my romantic soul win on the beast that lives inside each of us??? This should have remained as an Hamlet doubt which accompany anyone in this world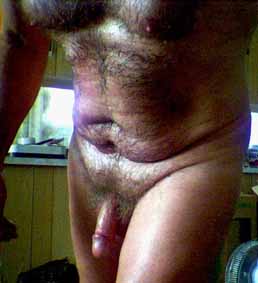 We arrived at home, it was very cool: we entered and we found ourselves holding tightly, mouth to mouth, our tongues searching each other. We kissed passionately, exploring our mouths, our bodies still clothed. Hot and sensual kisses, our hands were moving in frenzy, touching any part of our bodies. Touching our sexual areas and our clothed masculine hot and sweaty bodies. Then we pull our clothes off. How beautiful he was His very masculine body, well built, hairy, stocky, hunk. Grey and white fur, a nice pair of grey moustaches, a masculine squared and tanned jaw, but the most beautiful thing of him were his deep blue eyes. Oh! How I liked him. A nice and big gentle giant. Me? Well I was touching the sky with a finger. I was very excited by that man, his body, his face but also for something else which I could not understand. But much to my surprise his cock was not erected: I thought maybe I'm not his type, and asked him:- Sorry Ray why's your cock not erected?? Ray looked at me and very shy said :- I'm sorry, but I need time and a fair amount of games to get it hard. I like you very much, but you must have patience .. I'm not hot like youI kissed him and the perfume of his body, the taste of his moustaches and of his mouth gave me a very strong emotion. Two little crystal teardrops were running on my cheeks. Ray pulled away from my mouth and kissed my tears sucking them with his velvet tongue Then we found ourselves on the fresh and clean sheets of the bed. A soft blue light filtering through the curtains on the balcony was all around changing the shape of our bodiesI sat on his warm and furry belly. Looked firmly at his eyes, those deep blue eyes, placed into such a nice tanned face, surrounded by a short grey hair. His moustaches, his squared jaw, his rich and masculine shoulder, his strong and hairy chest with a nice pair of brown and large nipples, his masculine abdomen gave me a very great pleasure, and while I looked him, I also talked to him underlining every part of such a nice and hunk body. Ray, you are so nice, how beautiful are your eyes, your meaty are your lips, your chest your body.Oh Ray, please do not disappear, stay with me He was looking at me in silence, caressing me, my legs, my buns, my proud cock. Then he said :- Oh my little Italian, caress me, touch me, talk to me don't be in hurry, have patience and you will be happy. I want to sink into your green eyes, to taste your red mouth, and to feel your rebel soul into me Your youth, your fire, the passion of your latin soul. We explored our bodies, and I really would have liked to see his male parts erected and proud, but unfortunately there was nothing to do, nothing was moving. Anyhow his sex was nice even in relax. His nice and proportionate cock, his large and hairy balls. I couldn't resist. I wanted to see him in erection. I gently kissed his cock, his balls, swallowed his cock deep down into my mouth. The taste of his meat was very good, but still, no reaction. Ray looked at me, and talking gently he leaded me into an erotic game.C'mon my dear little Italian, kiss my nutballs, let me see how clever you are, take my cock deep down into your hot throat, let me see how my cock disappear into your mouth, caress my asshole by your beard,rimm all around, let me see how you can fuck me, let me see how can you cum into me Oh let me see you in action serving this old man, let me see how can you please me and you, oh let me see you cum wildly upon my face and body, let me see your joy squeezed on me
Those words, were very exciting, and got me crazy and wild. But I realised that he used the word "SEE" too many times, and I thought :- Maybe he is a voyeur, maybe he prefers to watch rather then to act. Then, I pulled away from his body and told him:- Ray c'mon, let me have your videocam and cables. He looked at me and brought me the videocam suitcase, I took the TV set into the bedroom, connected the camera to the Tvand adjusted the focus to get a sharp image on the Tv screen. Well, Ray I like to be filmed while I play with myself. Do you want to play with me? A strange light appeared into his eyes, then he said yes, and I sat on the chair in couch position offering him a nice core of my erected cock , my full balls and my hairy assholehe was filming me, while I jacked off, squeezed my balls, while caressing my hairy chest. Then I licked my fingers, and lubricated my asshole.Put two, then three fingers into my cave, and played the in and out game, opening widely my asshole. Ray was filming every move, and I was very excited, shouted him to come closer to me. Ray by one hand was filming me, and by the other he started to touch his cock and balls. Something was moving I was looking at him and asking him:- C'mon come over here, and suck my hot cock, swallow my balls, fuck me, bite my nipples, rimm my ass, gimme your sex. I was hearing him getting very excited and his breath becoming more and more broken. All of sudden I ordered him to stop filming and to come over the bed. He immediately left the cam and sat on bed. I said show me your ass. His hairy buns were superb, his ass hole very attractive. I filmed everything and he was catalysed by the TV's screen. While I was filming him I was also telling him:- Hey man, just in a while you will see what I'm gonna do for you. I'm gonna fuck you as deep and as wild as possible, I'm gonna fuck you as nobody before, I'm gonna fuck you till you will say stop it stop it, I'm gonna fill you with my rich and hot cum, you will be mine and you will be in my possess. Ray was watching the scenes on the screen and was touching his balls and cock that was getting up strong and proud. His tool was delicious. Then I placed the cam on th TV set, and focusing on the bed, I movedover the bed. The perfume of such an hunk man and that strange situation were exciting me very much. Ray was looking at me, in a couch position, asked me to fuck him. That's what I was looking for I held him tight, rimmed and licked his asshole then by one shot only I was into himHe was captured by the screenAs soon as I was into him, Ray shout load :-Fuck me, just pour that big cock deep down in me, gimme pleasure, fuck me and ride me like a horse.I was fucking him wilder and wilder, my quick shots were driving him mad. The heat of his asshole walls, and the slick juicy hole, was giving me a great pleasure. But the most beautiful things was the face of Ray on the screen. His face was lusty, and his open mouth with tongue moving as a dog was telling me all. His eyes were full of pleasure and desireDuring my ride, I touched his cock. Finally he was hard as a stone, and I squeezed him, squeezed his balls: I didn't want to lose such an extraordinary piece of pulsating meat. I pulled off from his wet and warm hole, and offering my mouth to his beast I asked him:- Gimme your cock now. Fuck my mouth deep down my throatHis cock was nice, strong and a big head was fucking my mouth. The taste of that meat was wonderfulRay was very pleased of my blow job, and his hands on my head were ruling the frequency of my sucking The wild taste of his pubic area, and the taste of his masculine parts, were inebriating me. I sucked his cock, trapping him deep down my throat, my hands was torturing his big balls. My cock was very close to explode.Ray asked me:- Ah, my little italian I'm cumming, I want your juice into my mouth, I want You to spread all your creamy stuff on my face, on my body, I want You inside me!!! Ah, take me, treat me like a bitch,fuck me fuck me let me die.Unwillingly I released his cock, and fucked him once again. I was pumping inside him, and he was jacking off, looking always at the screen. He was hypnotised by the screen and totally captured by the scenes that was running fast as well as my excitationRay was breathing and his breath was coming broken and broken. He was very close to cum. So, I pulled out once again my beast from his nice asshole, and asked him:- Suck me, suck it. He serviced my hot rod , but he didn't had to work a lot because my cum was already on the way to explode. I just moved away a few from him, and suddenly I shot my rich cum on his face, his chest, six to seven wild and quick spread stroke him. Ray shouting cummed too and my body was smashed by his hot and juicy cumWe fell down over the bed sheets fresh and clean until few minutes ago, and now hot and wet of sweat and taste of our masculine scentsI stopped the videocam, leaving on the screen the last frame :
Two very nice relaxed and satisfied bodies, shining with soul juice
After a while I waked up and went into the kitchen to prepare a coffee. It was late afternoon, a fresh breeze was coming up from the canal, a tender sunset was filling up the autumn sky. The fresh taste of the coffee war surrounding the room. While I was pouring the coffee two strong arms held me tightly breaking my breath. Ray was behind me, kissing my neck, looking at me with a love glimpse and massaging my hair chest. He looked at my eyes and said:- Thank You very much, You have been very clever, and you have pleased me in a very special way. A special pleasure that I have never had from a long time. Thank you my little Italian bear.His lips were seeking for mine, and mine were seeking for his. We kissed with passion my face was getting wet, Ray was crying. I caressed him and this time it was me kissing him and drying his tears
Then we had our coffee. with no words spoken, in silence. Our eyes were telling more than any word could tell. Ray left, with his tape. I didn't insist to have it. I know that he would have had the pleasure to see it anytime and to remember, and I considered it as a gift to him I didn't ask him his phone or address, just let him go. I remained into the room sinking into my toughs and remembering such a lovely afternoonWent out late that evening and always with Ray in my mind. That man was so special.. Went home around midnight (there is a Jazz song which sounds like that!!), pushed the front door, and while doing the ten steps to reach my home, two strong arms stopped me. Ray was there a rose between his hands, a killer smile, and just one phrase: - Hi, I've lost the last ferry to Venice, may I stay here tonite??
Jan Masny
---