ORSI ITALIANI MAGAZINE
---
Bear Mix 2001
---
La raccolta 2001 di immagini ursine da giornali e riviste
The 2001 collection of bear pics collected from magazines
---

1. Cominciamo dal supplemento "D" de La Repubblica: un interessante servizio di moda, non per gli abiti presentati, ma per l'ambientazione...
1. Let's start with women's supplement "D" of the newspaper La Repubblica: an interesting fashion report, not for the clothes presented, but for the "background"...

Sempre dallo stesso servizio...
Always from the same article...

---
2. Il bagnino dei Bagni San Giorgio di Bonassola Franco Perelli in una foto da "Panorama"
2. Franco Perelli, the lifeguard of Bagni San Giorgio at Bonassola (Italy) in a photo from the newsmagazine "Panorama"

---
3. Dal supplemento "Il Venerdi'" de la Repubblica un interessantissimo motociclista
3. From the friday supplement "Il Venerdi'" of the newspaper La Repubblica a very interesting biker

---
4. Lo stilista Jeff Griffin dalla rivista inglese i-D
4. The stylist Jeff Griffin from the brit magazine i-D

---
5. Sempre da Panorama un prima e dopo (la depilazione) di Agassi: inutile ogni commento
5. Always from the newsmagazine Panorama a before and after (chest-hair shaving)of Agassi: no comment

---
6. Un mix di personaggi vari: da sinistra a destra / A mix of various bears, from left to right:
a) il figlio di Antonio di Pietro, Cristiano, bono come il padre / The son of Antonio Di Pietro, Cristiano, gorgeous just like his father.
b) Il re dello Swaziland, Mswati III The king of Swaziland, Mswati III
c) il vincitore dell'edizione 2000 di Survivor (ed. americana), Richard Hatch / the winner of Survivor 2000 (USA), Richard Hatch

---
e qualche orso di cultura... (da destra a sinistra)
and some bears of culture... (from right to left)
a) Umberto Eco (scrittore / writer)
b) Carlo Lucarelli (scrittore / writer)
c) Stuart Gordon ( regista / film director)

---
Concludiamo con un paio di immagini da Babilonia
We finish with a couple of photos from the gay magazine Babilonia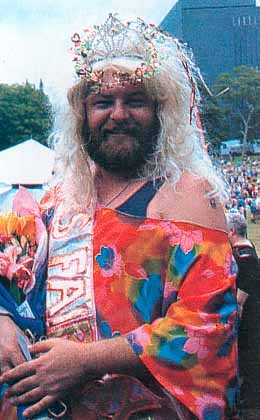 ---
ORSI ITALIANI MAGAZINE
---